HappyOrNot recently reached 1 billion worldwide feedbacks across 120 countries since 2009. This feedback allows HappyOrNot to provide it's Healthcare customers industry specific patient experience benchmarking against similar healthcare providers around the world.
Healthcare patient experience benchmarking
The data shows that patients rate the satisfaction with their healthcare providers lowest on weekends, with possible causes like less on-staff doctors and longer waiting times.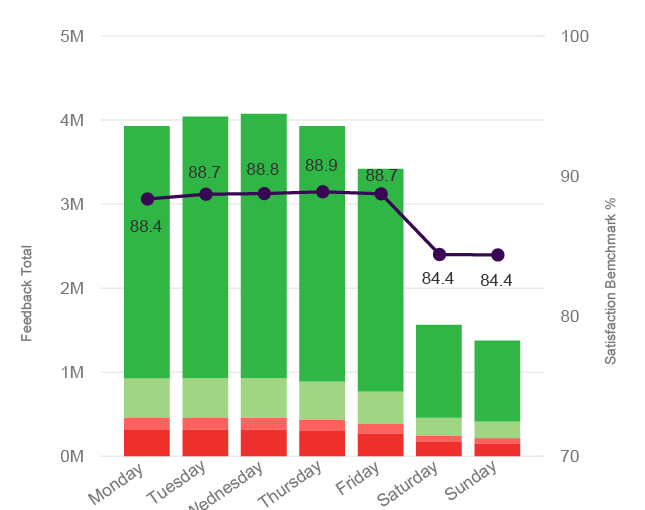 -Healthcare customers worldwide recorded 87.4% patient satisfaction in 2018.
-The happiest month on average to be a healthcare customer is October. The least happy is August.
-The happiest day of the week to be a healthcare customer is Thursday. The least happy is Sunday.
-Blood service clinics were the top sub industry for patient satisfaction and physiotherapists were at the bottom.
Most commonly asked questions in Healthcare were:
-How professional was your doctor today?
-Please rate the quality of your care.
-How satisfied were you with your visit today?
-Please rate the length of time you waited today.
-Were we welcoming and friendly today?
'Very Happy' Smiley is the Most Pressed
Customers worldwide are most often very happy with the experience they've had with a brand. The Happiness Benchmark (total percentage value of green Smileys) of customer experience today is 83.3% from over 684 million voices.
For businesses, the red Smileys numbers show that there is still significant room for improvement. Of all 1 billion customer experience transactions reported, over 167 million of those were bad experiences.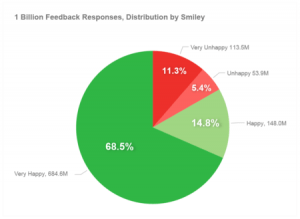 Patient Satisfaction is Increasing
Year-on-year, organisations using HappyOrNot are gradually increasing (despite a small dip to 83.2% in 2017), and is sitting at 85.0% thus far in 2019. For Healthcare these numbers have increased from 85% in 2014 to 88% currently in 2019.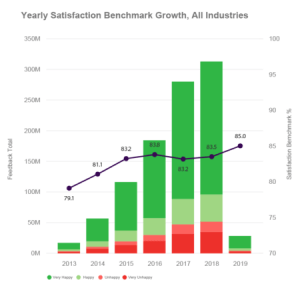 Benefits of tracking Patient experience
Tracking and patient experience benchmarking are one thing but the ROI is found by the changes that are made out of the information. Healthcare organisations are seeing changes to the bottom line by focusing on Patient experience by being able to:
Target corrective measures according to your patients perceptions – With an easy-to-use survey tool positioned right at the point of care, you capture your patient's perception of care in real time, increasing the value of the responses and making it easy to target improvements.
Optimize the allocation of staffing resources – HappyOrNot captures fluctuations in patient satisfaction at each measurement point, allowing you to place staff where they're needed most. Your employees are able to concentrate on the most critical tasks to offer best possible service.
Validate quality of care – The data analytics acts as a quality assurance reporting tool, where the success of improvement initiatives can be demonstrated and validated through the increase in patient satisfaction levels.As offering a great patient experience becomes an industry standard businesses worldwide are coming on board to track and manage their service performance with easy, instant, and actionable CX data insights.
If you would like to be able to benchmark your organisations patient experience against others get in touch. Contact us here