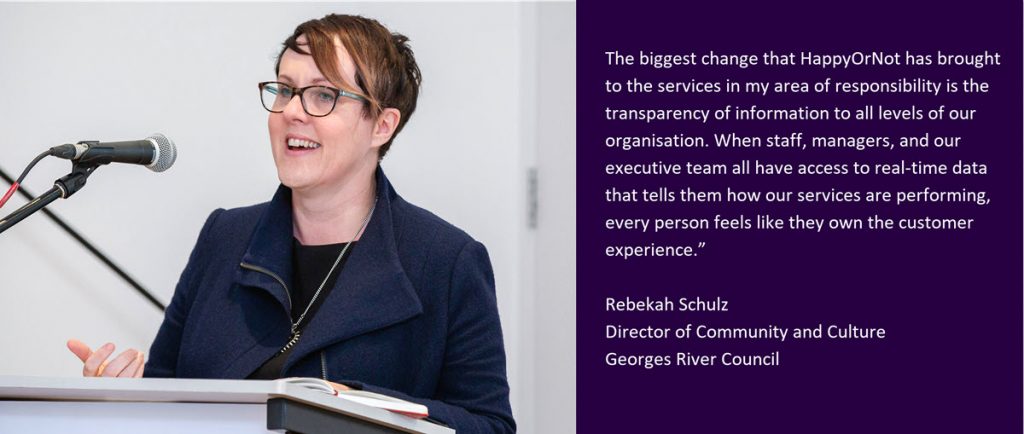 Georges River Council is a local government area in Sydney, Australia dedicated to protect the natural environment, provide vibrant public places, sustain and develop a thriving creative culture, and enable people to move around the area easily.
The council began using HappyOrNot in 2018 as part of its customer experience transformation program, partnering with Push My Button. HappyOrNot has enabled Georges River Council to collect real-time feedback data across all their customer-facing service points, use that data to make strategic improvement decisions, and be a customer-focused organisation.
Transforming the customer experience across the whole organisation
When Georges River Council was proclaimed in 2016 , it was a merger of two smaller councils: Kogarah City Council and Hurstville City Council. At the time of the merger, the General Manager ensured the entire organisation prioritised the customer experience. The council then launched a customer experience transformation program incorporating several strategic projects.
"The strategy from the beginning was that the customer experience would not just be the domain and responsibility of the customer service team. It was the responsibility of every single staff member across the organisation," says Rebekah Schulz, Director of Community and Culture at Georges River Council. "When staff, managers, and our executive team all have access to real-time data that tells them how our services are performing, every person feels like they own the customer experience."
The first stage of this transformation program was to set up the right processes and procedures, get the right technology in place, and train staff. Of the 44 projects prioritised, gathering satisfaction for face-to-face customer service was high on the list. Georges River Council chose HappyOrNot as a real-time experience management solution to collect, monitor, and improve customer satisfaction levels.
"Previously, we had blind spots in the management of our facilities," Rebekah explains. "It's not enough to know the number of people coming through the door. Maybe there are half a million people coming through every year and that's fantastic, but are they actually satisfied day to day with your service? We didn't know the answer to that from day to day. As a result of using HappyOrNot, we no longer have those blind spots anymore."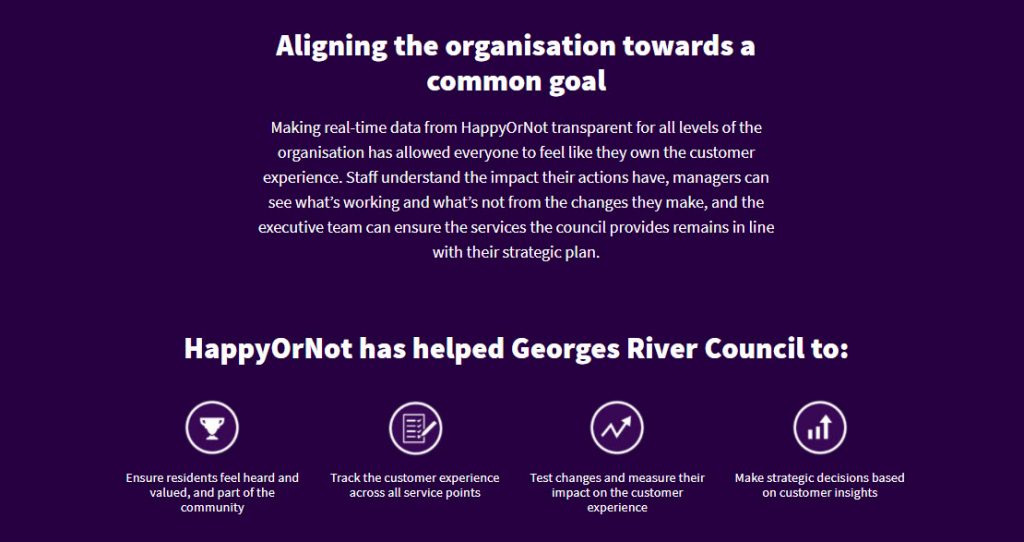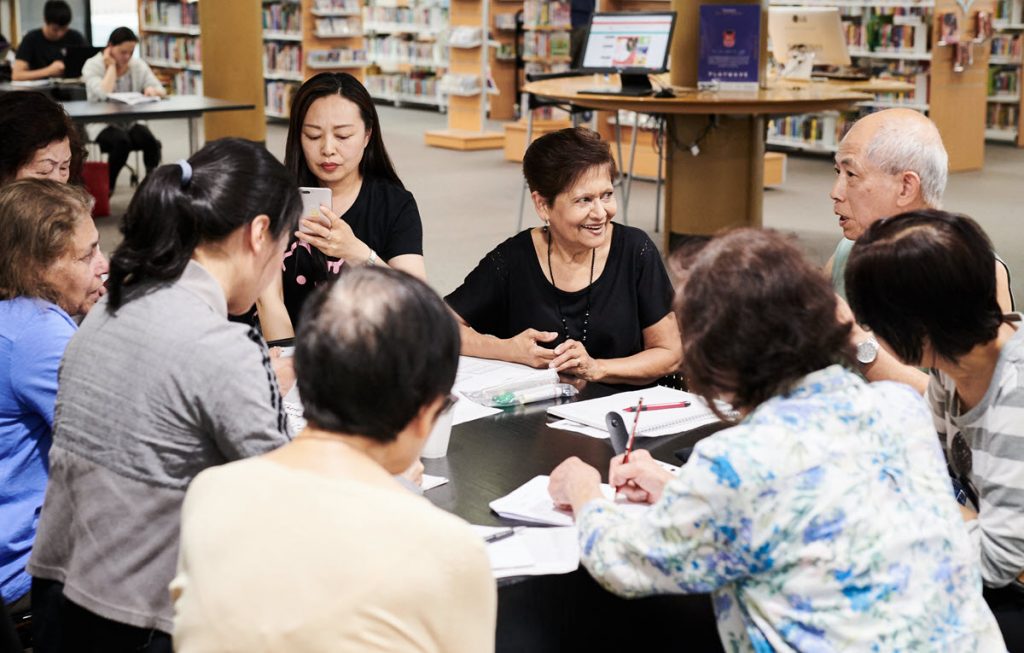 Collecting unbiased and meaningful customer feedback data
With traditional customer satisfaction surveys, delivering the survey is time-consuming, the data is often complex and, as a consequence, only updated every few years. You might not get feedback from enough people, and the data might be skewed if it's only focused on a particular period of time. But when presenting data from HappyOrNot to senior management, there are no concerns raised about the methodology used to collect the data because the technology is so accessible. "It's easy to justify the methodology behind HappyOrNot when people see the ease with which customers give feedback on a daily basis," Rebekah explains.
"Our community is very diverse—people have different levels of technological expertise, and many don't speak English as a first language. By using Smileys rather than words, customers can share feedback on their way out the door, thereby removing any access barriers due to language or ability. Our high response rates tell us that our customers find HappyOrNot easy to use. And customers not only provide us with the rating, they regularly add their comments or feedback," tells Rebekah.
The data from HappyOrNot is also easy for all roles within the organisation to understand and interrogate. "The senior management team quickly saw the simplicity of the technology from the user point of view, and the robustness of the collected data," says Rebekah. "HappyOrNot presents a quick and easy way for the senior management team—who are busy people—to understand customer satisfaction levels across the different service points," she adds.
"Having data that supports the reason for change is powerful"
Georges River Council is now in the second phase of the customer experience transformation program and focusing on how to further improve experiences. "Our goal by the end of the year is to be in the top 5% of Australian councils," says Margaret Le, Customer Experience and Events Manager at Georges River Council.
Margaret explains how HappyOrNot helps the council achieve their goal of keeping the customer at the centre of everything they do:
"HappyOrNot helps us demonstrate to our customers that we want to listen and are interested in their feedback. It also allows us to gather feedback in a way that wasn't previously possible. We don't just ask for feedback at the customer service center, but at all our face-to-face services including our museum and gallery, libraries, and early learning (child care) centers. When we look at the results daily, weekly, monthly, and quarterly, we can see clear trends and opportunities to look deeper into the data by time of day. Having data that supports the reason for change is powerful."
Imagining the future of Georges River Council's services
Reflecting on our changing environment and the council's big picture approach to customer experience, Rebekah shares what Georges River Council's services might look like in 10-20 years' time.
With the rise of virtual environments, the council has been sharing resources between libraries, museums, and gallery services. "We've always worked closely but now we're really working together. I see it's a natural progression for these services to one day be co-located under a single roof. Under this service model our customers would enjoy our library services whilst also visiting our museum or gallery exhibition," explains Rebekah.
"HappyOrNot can be used in different parts of one facility—it's not a technology that is too cumbersome to use that you would only want to engage with it once. We could place HappyOrNot terminals in different parts of a single facility so our customers can not only enjoy what they're doing, but also provide instant feedback on the element they're experiencing at that given time. Our business improvement officer would be able to give us some really wonderful data on how people are interacting with their experience in each of those spaces," Rebekah adds.
To learn more about how Georges River Council is using HappyOrNot in other areas of their organisation, read also:
Making meaningful changes at customer service points and child care centers: Discover how the council is taking a data-driven approach to customer experience at these key service points. Read it here on the HappyOrNot website
Closing customer satisfaction gaps at community & cultural service points: See how the council's community and culture portfolio uses HappyOrNot to address performance gaps and improve the customer experience at these key service points. Read it here on the HappyOrNot website
Want to hear more? Get in touch today …
[ninja_form id=8]
About Georges River Council
Georges River Council is a local government area in Sydney, Australia dedicated to protect the natural environment, provide vibrant public places, sustain and develop a thriving creative culture, and enable people to move around the area easily. They also want to offer access to a good mix of housing options, create job and business opportunities, and ensure that Council is continually looking for ways to improve their provision of essential services. They aim to be a leading people-focused organisation and continually seek opportunities to learn and grow.
Visit www.georgesriver.nsw.gov.au.
About HappyOrNot
Creator of the globally recognized four Smileys, HappyOrNot enables companies to identify and optimize experiences across all touchpoints through relevant, in-moment feedback data. With the ability to track, validate, and compare ongoing performance, companies are empowered to continuously improve experiences and drive operational success. Founded in 2009, today HappyOrNot serves 4,000 brands across 135 countries, like Elkjøp, Levi's Stadium, Autogrill, and London Heathrow Airport, and has collected and reported on over 1.5 billion feedback responses. Headquartered in Finland, HappyOrNot also has offices in the U.S. and around the globe, and a reseller network of over 100 companies.
Visit www.happy-or-not.com.