Waitemata District Health Board Quality Accounts 2014/2015 recently posted a great article on Patient and whanau feedback methods at the health board. Included were a number of techniques that have been deployed to gather patient feedback. You can find the complete article here http://2014.qualityaccounts.health.nz/quality-initiatives/patient-family-centred-care/stories/type/view/storyid/184
The extract below is on how they are using the HappyOrNot devices to measure point of experience patient feedback.
'Happy or Not'?
Happy or Not' devices are floor-standing kiosks that have four push-button 'smiley-face' responses. The device displays a question that we would like specific feedback on that time, and people push the smiley face that best represents their answer. We have 10 devices that circulate throughout patient areas.
Since February 2015 all 10 devices have been asking the question: "Were we welcoming and friendly". This is because our patients and their whānau tell us that the most important thing we can do to make their experience positive is to be welcoming and friendly.
Between February and June 2015 we received 16,766 responses and 90% of those were positive. The 'Happy or Not' results also measure satisfaction by days of the week and time of day so we can watch the changes in satisfaction over time and map this to what is happening in different areas (see chart below). So we know, for example, that people say we are more welcoming during the week than at weekends, and that we need to focus on how we welcome people around lunchtime and late afternoon.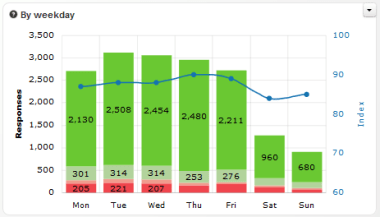 One of our 'Happy or Not' devices is kept permanently in our Discharge Lounge. In August we opened our newly refurbished lounge and you can see that satisfaction improved significantly.